Baccarat Etiquette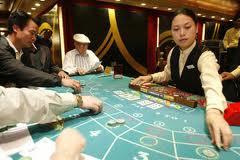 Baccarat is a table game that has an almost regal air surrounding it. It is a game that you expect to see a sharp-suited gentleman sipping from a cocktail glass, a tall slender woman with expensive jewelry at his side.
It is a game that can be played for vast sums of money and is often a favourite of the high roller, who play to win big.
This is not to mean that the less than regal amongst us cannot also enjoy a game of Baccarat. It is a game that suits both the low and high roller; you just need to understand the terms of etiquette.
Most versions of Baccarat give the players the option to deal the cards themselves. This will be done by the use of the shoe, but if you do accept this offer, then you must remember to always bet on the banker.
This in no way reduces your edge, because the banker is the most profitable bet in Baccarat, but it does reduce your options, and can be annoying to some of the other players in the game if you forget this little idiosyncrasy.
When joining the game, especially at a full size Baccarat table, it is always polite to wait until the round has finished before you take your seat.
Also make sure that you don't take up your seat if you are not planning to bet, especially if other players are waiting for their turn at the table.
While the casinos do try to create this elegant aura, you will still be welcomed, and, as long as you are courteous and polite, you will have a wonderful time at the tables.
---
Play Bacarrat At Any Of These Online Casinos