Variance in Poker
Variance is one of the most commonly referred to words in the poker dictionary. Humble players attribute their wins to it, sensible players attribute their downswings to it, and the cocky players attributed every single loss to it.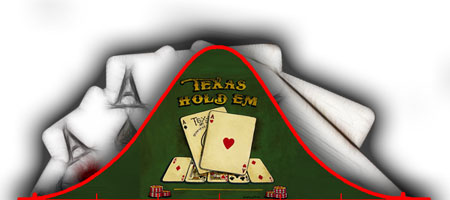 According to Betfair pundits, there are some components of variance that you can control and others that you cannot. Imagine, you have reached fourth street, and have your fingers and thumbs crossed in the hope that you smash your flush.
In this instance, you have no control over the destiny of the deck. The next card is going to be what it is going to be. That is variance and you don't have control over that situation.
You don't have any control over how variance distributes itself upon the poker spectrum. You may see players who have weak fundamentals winning incessantly, and the top players heading in the opposite direction. You may experience the pain of variance once a week, once a month, once a year, or every single hand.
Trying to control variance is like trying to control a hurricane. It's just not designed to work that way. Instead, you control what you can - your reactions to variance. You make the best use of a situation that simply exists in the game you love and get the most out of it.
If you cannot affect the outcome of the next card to fly out of the deck in a Betfair WSOP 2013 event, then why worry about it?
By allowing variance to affect you, then you are weakening your position at the table. This is tough to manage but meditation and affirmations can really help you create better habits in this area of your game.
---